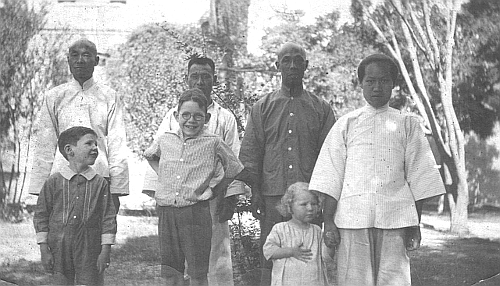 Brothers James and Harold, and Elizabeth with her amah, Tien Da Tsao
Elizabeth's parents, Harold Wesley Robinson and Mary Elizabeth Stambaugh, first met in 1910 aboard the S.S. Wilhemena after boarding in San Francisco bound for Honolulu, Hawaii. Harold had grown up in Warren, Vermont, one of seven children, and the only one to leave the farm, finish high school, and attend college. Among other things, it was discovered he had a photographic memory. Harold was going to to teach mathematics at the Mid Pacific Institute in Honolulu to replace his friend Ralph Richardson who had been offered an engineering position for the construction of Pearl Harbor.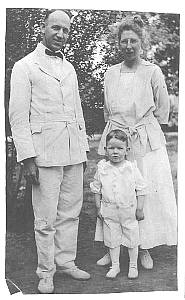 Mary had grown up around Wilbur, Washington and had attended high school in Spokane. Her father ran a General Store and as a child Mary remembers Chief Joseph coming into the building from the nearby Nez Pierce reservation. Mary was going to teach in the Kawaihao Seminary for Girls in Honolulu after being turned down for the job of principal in a school in Davenport, Washington because she "was not a man" and had heard of the opportunity from a Whitman classmate who was then teaching at Kawaihao.
In 1913 Harold enters Union Theological Seminary in New York. After his second year at Union, he applies to the American Board (based in Boston) to go to China as a missionary and is accepted. It is arranged by the American Board's Secretary, Dr. Edward Lincoln Smith, for Harold to join the Central Congregational Church and go as their representative to China. After graduating from Union, Harold is ordained in the Congregational Church of Brooklyn in May 1916. He and Mary are married in her parents home in Spokane on August 8, 1916, and they sail to China that September.
Elizabeth's oldest brother Harold is born in Paotingfu on January 1, 1918 and her second brother James is born on October 4, 1920. She is born in Barre, Vermont on November 1, 1923 while her family is home on its first furlough. The Robinsons go back to China in February, 1925. Prior to their return, the family of five stayed with Mary's parents in Long Beach, California. The following was their Passport photo taken in Long Beach.
As a way of communicating with family and friends back in the U.S., Harold and Mary would occasionally compose a newsletter of sorts which they called "The Chinese Chimes". Three editions are reproduced here:
As Elizabeth describes this project in her autobiographical essay, "First Memories":
Missionaries abroad kept in touch with their U.S. families by writing long Christmas letters, that covered changes in height and weight as well as the major illnesses and childrens' clever sayings of the previous year. Of course there were no computers so these were typewritten on thin sheets of paper and mimeographed copies sent to various family branches back home. My parents Christmas letter, "The Chinese Chimes", was written as if our family were some sort of well ordered corporate venture. Father became "Editor (Pretend)," mother was "Busy Manager," Harold was "Cub-Reporter," James, "Sport Editor," and I, the "Treasurer"—metamorphosed in the Chimes into the "Treasure," by virtue of my being the only girl, last child.