eating on porch – left-to-right: Hal, Jim, Mary, Elizabeth
The Hubbards, Galts, and Robinsons in the summer of 1918 in a place called "Gwantzeling" in the mountains of North China where families went to get away from the heat in Paotingfu.

"Shack where the Robinsons spent summer vacation" (porch at left)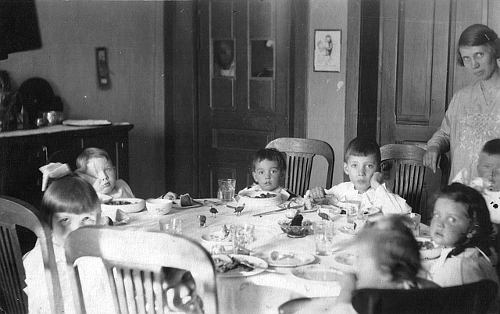 "And here's the birthday party—had to honor the birthday parties... This is my mother's handwriting now" on the image back. From top right: Mrs. Clack, Douglass Clack, Edith Galt, Marjorie Hubbard, Ralph Galt, Constance, Harold, Bertran (sp?) Hubbard, Gordon Clack, Table Boy (in door window). "Table Boy is the Chinese servant that waited on table... These [people] lived in Paotingfu."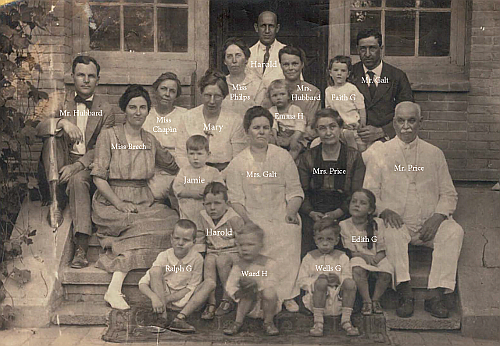 Robinsons and other American Board members in Paotingfu, circa 1922

"This is a little bit later than this birthday party, because there's little Jim, and the Hubbards now have moved into the Hubbard's house.... This is Grace Breck, I think. This is Isabel Philps. She loved me a lot and I wasn't yet born, but when I had scarlet fever and was incarcerated in the third floor of our house and my mother had to stay with me and nurse me—it must have been terrible—and Harold wasn't allowed to come back from Tuchow (his boarding school) that Christmas vacation (and he didn't like that), and Jim stayed downstairs with my father ... So this is the kind of community I grew up in. And there were always kids, but there were not as many—this is more kids than I remember because by the time I came along the Hubbards were living in that house.... And Mr. Hubbard, he was just wonderful ... he was a minister. There is a book out called The Call [by John Hersey, 1985] that's really about him [and five others], it's a novel."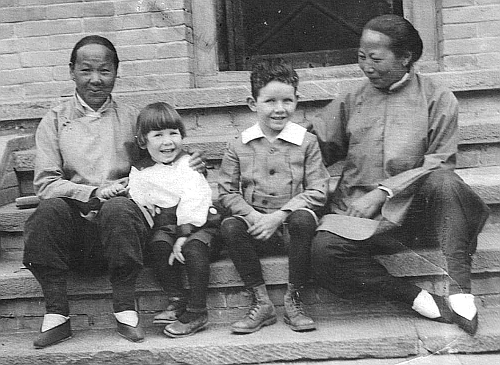 "Here are some bound feet. These are my two brothers' Amahs. My Mother could go and teach english—she loved to teach Walt Whitman, she loved Chinese poetry and she loved American poetry.... She could write, better than my father could. She was the literary person and it comes down [into Mary's descendants]. This is Jim's Amah, and I think she was called, Wang Nai Nai [Looking at the back of the picture, is the text:] 'Amah and Sewing Woman with two Robinson boys'. This is Wang Nai Nai and maybe this was our Sewing Woman but it looks like she's Harold's Amah, too.... And I think this may be the steps—not our front steps—but the steps out of my father's study door....

"Chinese women, from I forget what dynasty, they thought it was beautiful to have small feet. So they would take a little girl...let's say when she's pretty small and her bones are still pretty pliable. They would take her feet and bend over the toes underneath and bind them tightly, break all the bones, and bind them and keep them that way. And this was supposed to be beautiful; if you had tiny feet it was supposed to be very beautiful. I've heard it said that it really was a way that the patriarchy could keep their women in line because they couldn't run very fast. So, like, putting women in high heels. And certainly feet in Chinese art are—and Japanese too—feet and toes...are erotic, very erotic. My Amah, on the other hand...didn't have bound feet. She had big feet. I forget what class of woman didn't have their feet bound. But she was also younger than Wang Nai Nai and I don't know what this woman's name [in the picture] was. But we were very connnected with our Amahs because they really, they loved us and they took care of us and they were with us all the time and they taught us little Chinese songs and that's where we learned Chinese."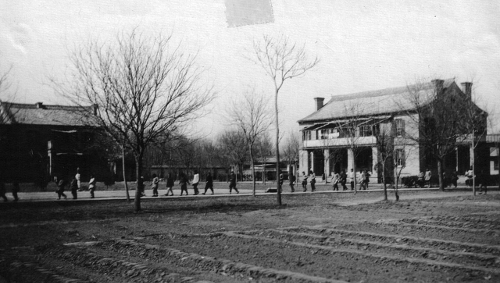 In Paotingfu
The Robinsons lived in the building on the left and the building on the right housed the Galt and Hubbard families
Three different houses the Robinsons lived in during the 1920s and 1930s
| | |
| --- | --- |
| "This was my mother's calling card after we moved to [Tehchow in] Shantung Province and it probably says..., I don't know, it doesn't say "r'ow tie tie". That probably is "r'ow" – our chinese name was r'ow, the last name was r'ow, and my father's name was "r'ow bing shun" (like Robinson). And my oldest brother Harold's name was "r'ow quay min" which has a meaning and I don't know what it means.... And Jim was "r'ow quay duh" – "quay" would be repeated in each time. And I was not "r'ow quay lepai", I was "r'ow quay j'un". They're all biblical in some way. And this probably, it says "r'ow something something", this would be my mother's name but I don't know what it was. But this is her calling card." | |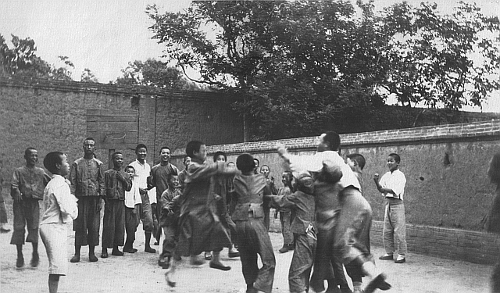 HWR's writing on the back of this image: "A group of students on the basket ball court at our Dartmouth School in Kao I. I played with them after I took the picture where I was down there a few weeks ago."

"This would be a group of Chinese students, and both my father and mother taught in the high school wherever we lived.... And this is typical kinds of walls [made] out of mud with a coating of plaster and a brick top."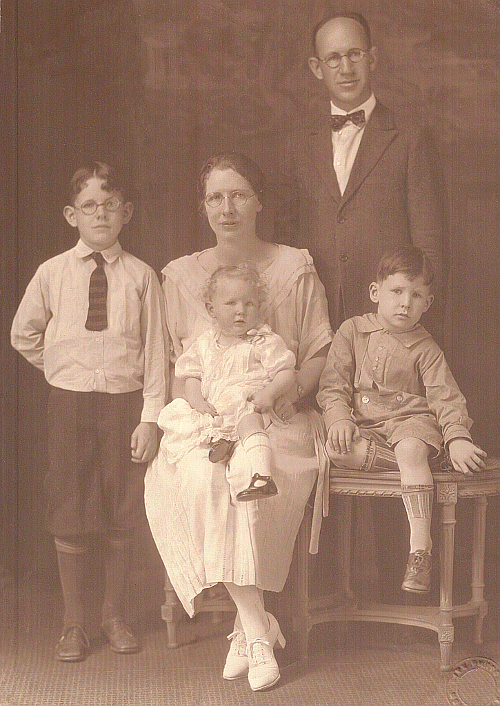 "This [is] our going-back-to-China passport picture and everyone's looking pretty serious.... It was a hard time for [my mother]. We'd all been through a lot—although I don't remember it and I'm sure they don't—but, my mother had said after this seven-year stint in China, she told Dad, your grandfather, that she would not go back to China with him. He could go back but she wouldn't go—she hated it. So he said, 'Well, I love China but let me go and think about this. You're my wife and this is my family.' And he went up and spent a summer, or, I don't know how long, three months or so, at Guy and Bess' ranch in Deer Lodge, Montana. He was a shepherd. He took care of the sheep. My mother stayed with her Mom in Long Beach in the little cottage that they built; it was very cozy. But it must have been hard on my brothers. They must have known: tension, tension, tension. And I don't look very happy there. When Grampa came back he said, What I really want is to be with you and with my famiy and I'll do whatever you want. We'll stay here. We'll find something to do here. By that time my mother had decided she wouldn't put him through that. And I don't know whether she cared anymore about China being that far away from it, or she just thought she'd go back. So it must have been a hard time."
The Robinsons boarded the SS Calawaii in Los Angeles on February, 14 1925 to return to China via Honolu. The following is Harold Robinson's recounting of this period culminating when he went to Montana, from pages 79 to 81 of
Grandpa's Story
:
In the summer of 1923 we landed in San Francisco and went by train to Long Beach where Mary's parents, Mr. and Mrs. George Stambaugh, lived. They had built a nice cottage on the back of their lot and we had a very enjoyable life there. In October we went to Vermont, where we lived with my parents in Warren for a short time and then moved to Barre, where Elizabeth was born November 1, 1923.
We had planned to go back to Warren as soon as Mary and Elizabeth could leave the hospital, but Mary developed phlebitis and had to remain in the hospital until February. She still had to stay in bed, but the doctor thought it would be O.K. for her to go on the train to Long Beach where the weather would be much warmer than in Vermont. It was good to be back in the little house which had been built for us, and Harold went to school and James to kindergarten. Soon Harold got the whooping cough and gave it to James. Later James got the mumps and gave them to Harold.
| | | |
| --- | --- | --- |
| Their mother had not fully recovered from phlebitis, so "Daddy" had his hands full and decided after the boys had recovered and their mother was better that he needed a change. Mary's brother, Guy, had charge of a sheep ranch in Montana, with 14,000 Rambouillet sheep. I wrote and asked if he could give me a job, and Guy replied saying to come ahead and do some carpenter work at the ranch until the weather got better. This I did, and was in Deer Lodge, Montana, when the thermometer dropped down to 44 degrees below zero, the coldest I have ever experienced. I was looking for a change and I certainly got it there! | | Rambouillet Sheep at Guy Stambaugh's ranch in Deer Lodge, Montana |
I didn't stay long that winter but went back again in the summer when the weather and work were more enjoyable. The sheep were divided into several bands with a shepherd at each band. Since the sheep were pastured on mountain slopes, some sheep got separated from the rest of the band and one day a man who was looking for gold told us that he had seen a flock of sheep at the head of a mountain stream and he thought they belonged to our ranch.
The next day I took some sandwiches and rode a horse up the valley until I came to a place where fallen trees were so entangled that a horse could go no further. I tied my horse to a tree and walked to the head of the stream where there was a spring and where I found sheep tracks. I followed the tracks for some distance and when I heard a sound like the breaking of a dry limb I stopped and looked around. A short distance from me I saw a group of sheep and got near enough to see that they had the marks on their wool which our ranch used.
I managed to drive them to where my horse was, and after eating lunch, the horse and I drove the sixty-nine sheep down the valley. The rest of the band was in an adjacent valley, so I had to find a way of getting my sheep over the ridge that separated the two valleys. Fortunately, there was an old lumber road which the sheep could follow until we got near the top of the ridge. There small bushes so filled the road that the sheep refused to go through. I carried a large pocket knife and with that I cut a path through the bushes and managed to get a few sheep along the path which I had cut. It was easy to get the rest of the flock to follow their leaders and we reached the larger band, so I was able to get home before dark. Since the sheep were valued at $10.00 a piece, I felt that I had earned my pay that day.
Later we drove a band of five thousand sheep through a forest to a mountain slope where there was good pasture, but it took us more than a day to do so. We could go only as fast as the sheep would go and they insisted on bedding down in the hot middle of the day. We had a lumber wagon with two horses and carried a cook stove for making warm food, and had plenty of sleeping bags and blankets so we were comfortable at night. Fortunately we did not encounter any wild animals and after a few days we arrived at the good feeding grounds and left the sheep in care of the shepherds.
The shepherds all had good sheep dogs and I saw one who had saved his master's life. One night the shepherd had heard noises among his sheep as though an animal might be looking for a meal of mutton. He went out in the dark to see what was i going on. It was in an area where gold had once been mined and the shepherd fell into an abandoned mine. He hit his head and lay unconscious at the bottom of the pit. His dog realized that his master needed help and went to the home of the brother of the shepherd and began to bark in the corral. The brother was awakened and went outside to the corral where the dog stood barking beside one of the horses. The brother saddled the horse and followed the dog to the pit where the shepherd was still lying unconscious. The brother managed to get the injured man and took him to a hospital, where he recovered. I saw the dog who had shown great intelligence and he looked like an ordinary shepherd's dog, but I am sure that his master would not admit that he was an ordinary dog. He was a life-saving dog and no money could separate him from his master.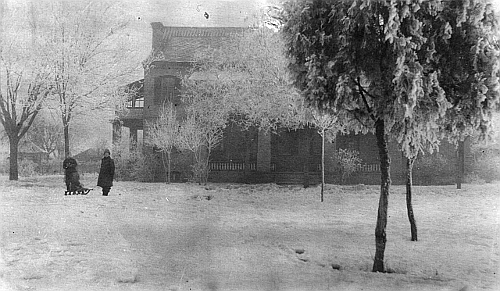 "So, we do go back to Paotingfu and here is our house and here is the sleeping porch that I remember sleeping on...it was real cold [in the winter] but we all had sleeping bags. And I remember that my mother was hard—I mean she was so depressed and a difficult life for her. I remember when I would go to bed on that sleeping porch I would say my prayers and i would say—I made up a poem about,

I love the sleeping porch
My bed is my second mother

It was comfortable. I could be cozy. And I knew that my mother couldn't be that way for me...[I was] five probably. Because I do remember sitting someplace on my bed or her bed or the stairs and realizing that there was nothing I could do to make her happy. That's really sad. And I think it was at that point that I decided I had to take care of myself."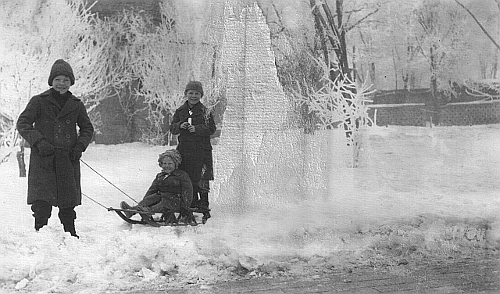 "But you can see we had snow. There's a sled. I don't know what Jim is holding. The snow would melt pretty quickly. It didn't last very long. But it was cold."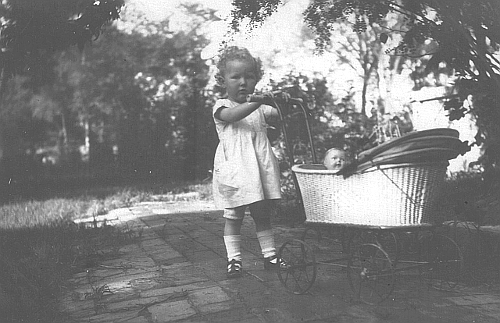 "I think I was probably a little bit younger here with my doll babt carriage and that little doll in it. I remember we had these walks, thick walks. I don't know where that was but I must have been about three, two or three there."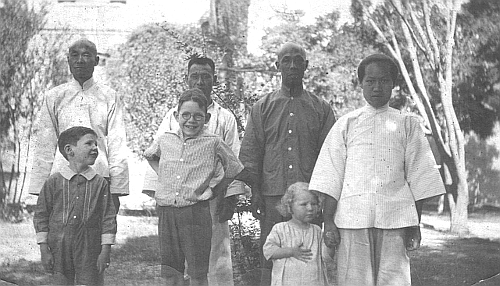 "And here was our crew of servants. These were very important people in my life. This is Tien Da Tsao, this is my amah. And she is the one, she didn't have bound feet. And I loved her a lot she was just wonderful. Looks as if I have a stomach ache [laughing]. And my brother Harold [more laughter], having a grand time! And brother Jim looking up to see what thing Harold is going to try next. This is our wonderful Cook, "Zang Sha Fu" [man behind Jim]. He was just great. We loved him so much. He was very funny. I don't know how he did it but I remember he, somebody came by that Zang Sha Fu didn't like and thought he was doing—some Chinese man—and he hung him up by his heels...he was protecting us in some way and I was very impressed. And I know that Zang Sha Fu was the cook and when my mother taught him how to make American breakfast (you've heard this story before), by mistake she burned the toast on the Chinese stove and she scraped it and said, 'We don't throw this out—but we're not supposed to do this.' But Zang Sha Fu always burned the toast and scraped it. And this was the Gardner [behind Harold]—he was not particularly important, he did a lot of things outside. And this was the Table Boy [behind Elizabeth]. His name was "Bwa Lin", Bwa Lin was our Table Boy. Zang Sha Fu was the Cook. "Shri Fu" means Head Person. And Bwa Lin was his name. He didn't have the charisma that Zang Sha Fu did. He didn't love us as much as Zang Sha Fu did...

"Tien Da Tsao was with us for a long time. I must have been about two then. And we moved to Techow (pronounced "Duh'joe") when I was probably six years old or seven and there were no other families in Techow. So I would be the only foreign child in this compound. So Tien Da Tsao agreed to go with us. That would make me feel happy. And she did go with us and she stayed there maybe a year. And then we came back on furlough when I was in third grade; I was nine years old I think. When we went back to China (I had already had my tenth birthday), and I remember being in Peitaiho where we went for the summers, seeing Tien Da Tsao and she didn't recognize me. She was with another foreign child. And I felt absolutely heart broken...And I'm sure that if I had—I didn't have the courage or was too...I should have gone up and said, 'Hey, Tien Da Tsao, here I am, I've grown up.' But I didn't say that, I just felt hurt. Just like my mother. Any way they were very important people in our lives."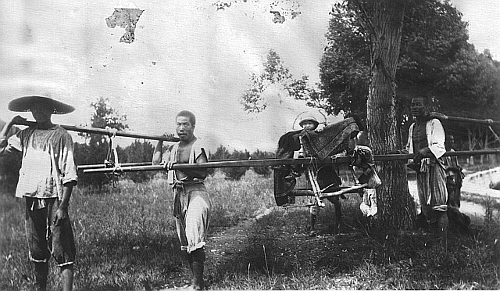 "This, I don't know who it is. It's probably Harold. This is how—although I went one summer, I think, with them, to Gwantzeling and it might have been me—this is how the little ones went up the mountain, in a chair with bearers carrying us."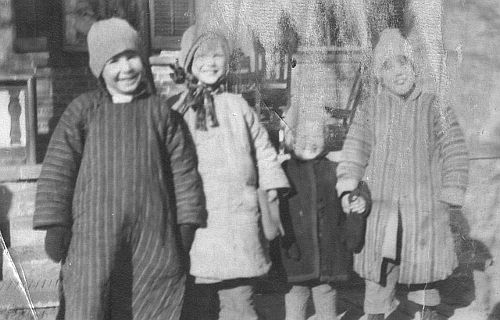 "This is in Paotingful and here's Jim and Emma Rose and they're wearing Chinese padded garments, they're very warm coats. This is, I think...might have been Faith Galt—maybe the Galts lived with the Hubbards for a while too. So I think that's Faith Galt or one of the Galts and this is me [between Emma Rose and Faith]...Cold winter."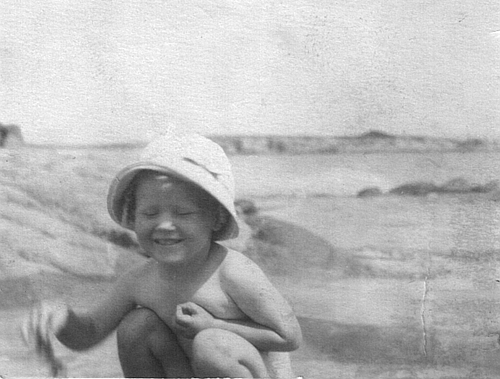 "And this, by contrast in Peitaiho, is where we went for the summers and it's beautiful, wonderful Pacific ocean, down at the beach where we spent lots and lots of time. I think I was just skinny-dipping. Loved it, it was warm and we had total freedom there. We as foreigners had the place all to ourselves. Chinese didn't live there."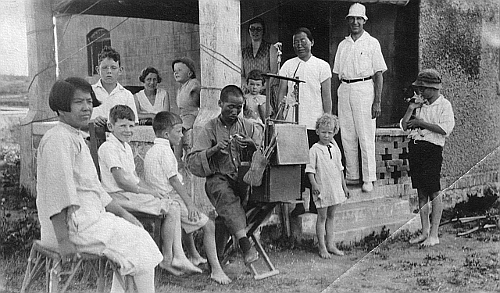 "This house was built there, and I think my folks paid for it. Across the way was the Ballou's house. This is Mrs. [Thelma] Ballou [immediately to right of pillar on the porch]...The fathers would be there only part of the summer; the mothers would be there with their kids. This is my father [with white hat on porch], this is my mother [second person to left of pillar], Harold looking very sad [to the right of Mary]—Mrs. Hubbard Ballou who just died last year. I think this is their amah [to the left of Harold], Bobbie Ballou, Jim [in front of Harold], Larry Ballou, little me, and this is Cristy Ballou [right of pillar]. That's me looking really sad. I might have...well, I don't think that—I think I was younger when I was punished, probably about this age, I was punished because our amah would go with—my amah, Tien Da Tsao, would go with me. And she was told to bring me back for a lunch. We'd always have a big lunch in the middle of the day and then take a nap. I didn't want to come back. So I bit her in the shoulder, enough to make it bleed. And she would have clothes on. My father had just arrived from Paotingfu and the family had been there for some time without him. He had brought lollipops for everybody. And my punishment was, I had to give her my lollipops. That was a punishment. And I remember that!...I think that's when I was about five. This looks like when I was about two or three. But really not very happy. Maybe I had been playing and they called me to come. [Harold Robinson wrote on the back of the photograph:]

This was taken at Peitaiho last summer. Mrs. Ballou is standing on the porch as is her amah. Bobby is at the left and Christy is at the right of the porch pillar. Larry is near James and Hubbard is holding his pup in front of the porch. Mr. [Hubbard] Ballou took the picture. The center of attraction is the man who made all sorts of figures out of dough and coloring matter. Some bunch when the two families got together.

"He was a travelling guy, he walked around and carried this on his back. And he made these wonderful figures out of flour and water and painted them. He was very artistic. He did it for the Chinese kids and then of course he would make more money if he came around to the westerners. This house was where we—this was at Lighthouse Point. And later on, because there was just the Ballou family house over here and our family house in Lighthouse Point and the beach was practically empty—it was just our two families—now, the Communists have taken it, of course—it was all foreign. And now it's a big place for R and R for Chinese officials, Communist officials. And it's changed a lot. People who have been back don't recognize it, saying this house is gone.

"Because there were no girls for me—maybe that's why I was looking sad—there weren't any little girls..."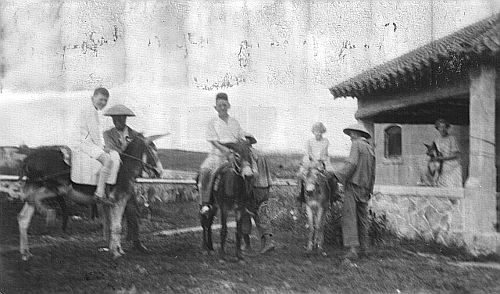 "This is how we got to and from the train by donkey. This was probably—we had a dog named Casseopia. That's probably Casseopia.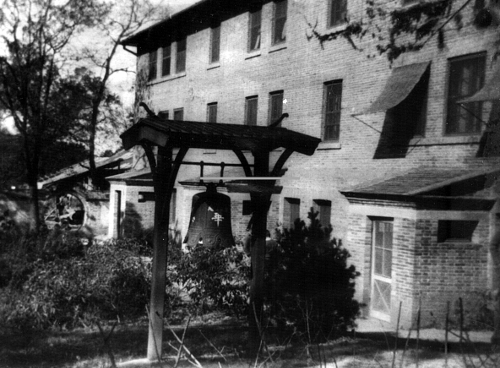 NCAS back of girl's dormitory


| | |
| --- | --- |
| | Harold and Mary Robinson in Tungchow, 1938 |