Mom Moments
(06:21) 8mm silent home movies, 1951-1962
Two years have gone by; this is Christmas now in 1982 and Grampa has been gone from this world nearly two years. Grampa and I dialogued this little collection of jokes and songs when he was 90 years old in his room in Hillcrest House, Carmel Valley Manor. It was November of 1976 then. I thought my daughter Patty, who was living in Japan, would especially enjoy hearing his voice as a Christmas present clear across the world. And indeed she did. Now this year, I have rediscovered the tape and am making copies for other relatives who might, at Christmas time, get a kick out of remembering Dad's great good humor and playfulness which was with him nearly to the end of his life. Along with Grampa, I send you all my Seasons Greetings and love. This is Eliabeth Ratcliffe, or Lepai, signing off.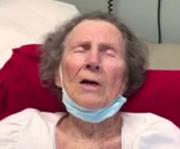 Growing Up In China - 1925-1940
1999 audio recording (two 90-minute cassette tapes divided into four parts) of Elizabeth recounting her years growing up in China to her son David going through old photographs. As more of the images are re-located a slide show will be produced. In the meantime, transcribed selected text excerpts are presented via the following links into the
Chronology
timeline as well as the
China
and
Family
Picture Books.